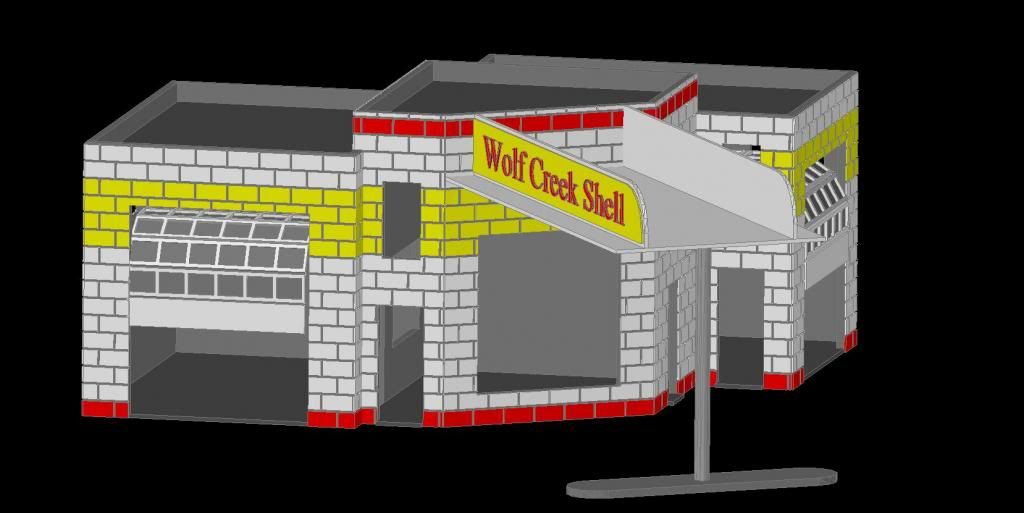 Construction of the Service Station
The design is my own but is based off of Dunkle's Gulf in Bedford PA, a beautiful art deco building pretty uncharacteristic of a service station.
I would like to emphasize that I had no intention of making a scale model of this particular service station although it would be a really interesting project. I used the Dunkle's Gulf Station as a starting point because it's a tall garage/Service Station and it's very unique architecturally. RC Trucks have an exaggerated lift and often have roof racks with accessories so I wanted a tall building but not so tall that it looked out of proportion. I also don't consider myself a scale modeler. Much of what I do is based half in reality/scale and half in fantasy or memories from when I was a kid. I work in the engineering world where all dimensions and details are exact and dictated by others so, in this world, I like to factor in creative liberty over design and function in my buildings. After a number of internet searches, I chose to base my design concept on Dunkle's Gulf.
I started playing with a digital 3D model I built using AutoCAD. Once I had the CAD model where I wanted it, I generated a full set of drawing plans detailing every step of construction. I'm documenting the entire build so as to create a detailed document outlining the construction of this building from my plans. My hope is to create a document set that anyone can build this service station from using some basic tools and skill… and then sell it and make millions in the off-scale boy dollhouse niche. It will be created from 1/4″ and 1/2″ birch plywood. Details on the inside and outside will be added from scratch and supplemented with prefab dollhouse windows and doors. Scale will be about 1:10; I say about because the RC truck world, unlike the world of dollhouse hobbyists, is sloppy when it comes to scale. 1:10 is what they are most often called but in fact, range from 1:8 to 1:12.
I own a miniature table saw and scroll saw & Dremel rotary tool. These are hobbyist, miniaturist specific tools and I will use them but they aren't necessary. A large table saw is handy but I've outlined my technique for achieving very square and buildable pieces using a circular saw, jig saw and hand held electric drill.
I've created different web pages to outline different phases of the construction process.
I hope you enjoy it & find it helpful.
Doug Kitschy retro yard artist extraordinaire, April, 2013