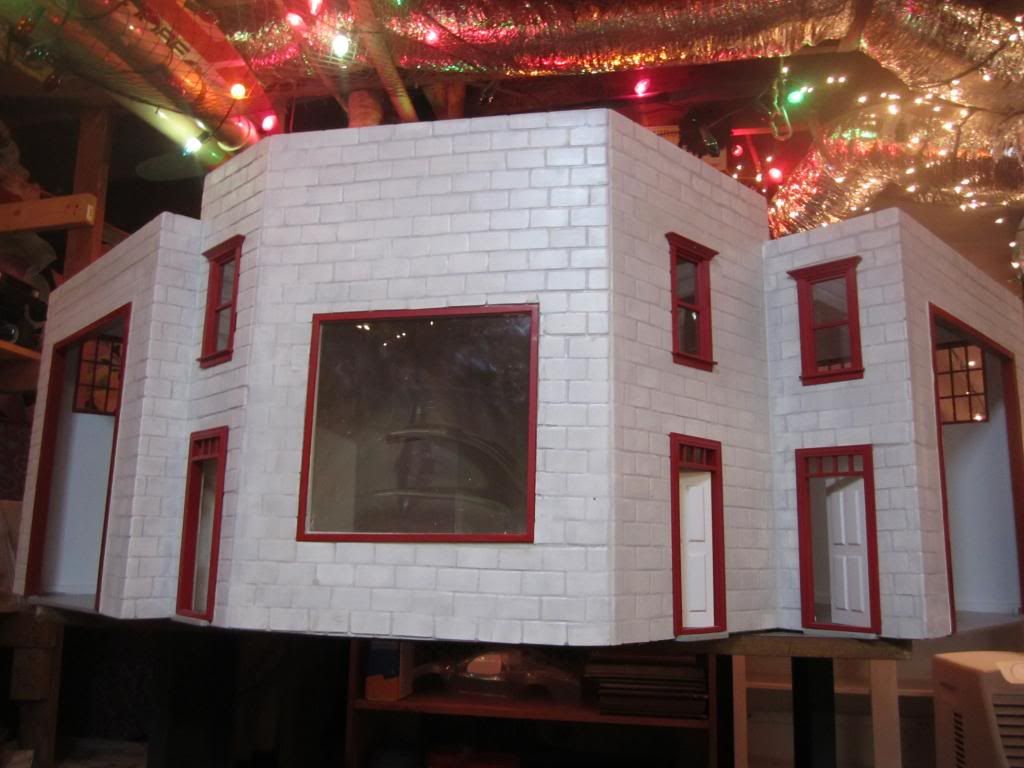 Step 4, Finishing the exterior
Finishing the exterior is totally up to the builder. I like to leave this option open because it makes the model unique to anyone who builds it. I had thought about an adobe theme… sort of my version of Pixar Cars but ultimately went with a cinder block facade.
Regardless of how you finish the exterior, in my opinion, a detailed three dimensional facade will really make the end result stand out.
Start by assembling all the walls. I found it helpful to complete the block facade before putting the roof pieces in and then doing the final trim block around the edges of the installed roof. I used bondo glazing putty to achieve a reasonably smooth surface on the exterior.
Next, the fun part. I purchased 30 24″ x 4″ x 3/32″ basswood sheets and cut them into 3/4″ strips and then 1-1/2″ blocks and then, it got really fun, I sanded all 4 sides on each piece.
I then drew a few horizontal construction lines on the outside of the walls to keep things level and using an 1/8″ square piece of styrene as a guide, I started gluing block on in an offset pattern using super glue.
You'll find it helpful to cut different lengths of styrene guides, long ones for horizontal, short for vertical and they will inevetably get mucked up from accidentally gluing them to the building.
But in a short time you'll end up with a pattern that is starting to look like block.
I started at one edge and worked my way around the building. Corners can be tricky but think in terms of how the block would be laid and therefor, facing in a real building.
Window can be left rough initially, i.e. don't kill yourself trying to trim each piece for a perfect fit. You will just trim it out later with a razor saw.
Once the block is on to your satisfaction, Goop it up with vinyl spackling putty. An old credit card or hotel room key works great for spreading it and working it into the cracks. I would work with one large wall, or two small ones at a time.
Helpful tip! While you can sand this stuff once it drys, it's a hellava lot easier to scrape it smooth with the credit card & then smooth it out with a damp rag. You can get it to where you only need to hit it lightly with sand paper using this technique.
once it dries, lightly sand & trim out the windows. If the grouting doesn't look right, go back over it with a damp rag & you can still shape it after it dries.
The final step is to do all the trim pieces. tops of the walls, the pieces that fit flush down to the roof, etc.
You can also see that I started painting the grout a darker color than the block. I thought I would then be able to just hit the top with a paint roller but I ended up painting each block with a brush because the roller technique just didn't look right.
Once the painting is done, you're on the home stretch. Fit the windows in & it's really starting to look like a building.