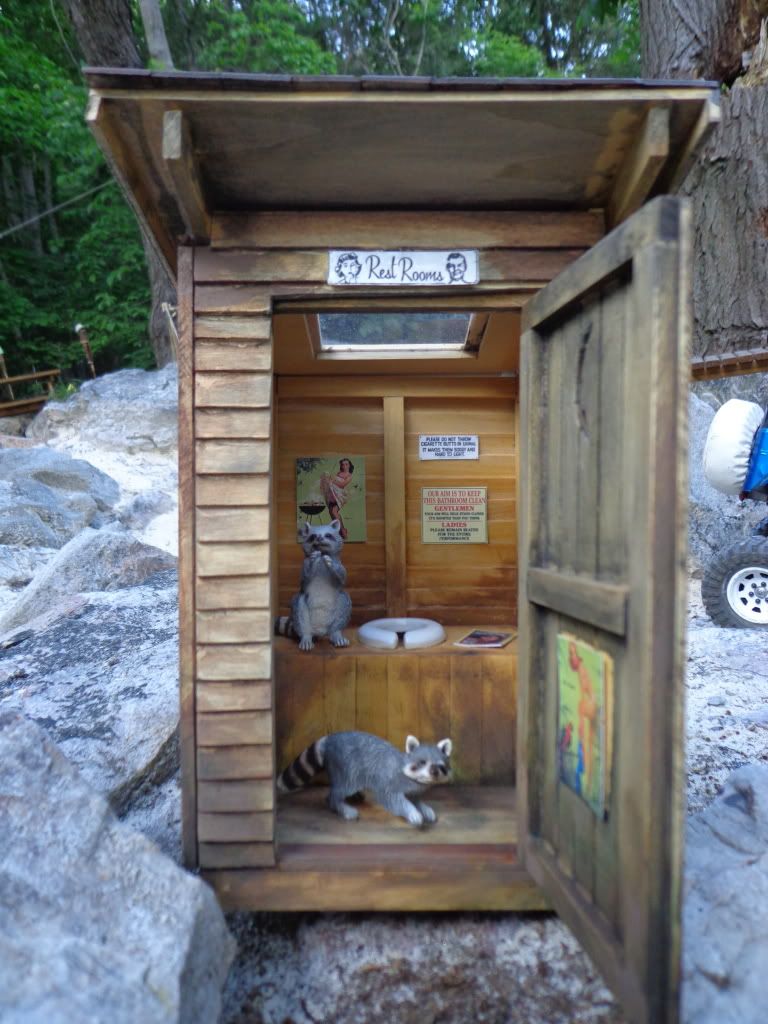 Out House
| | |
| --- | --- |
| Aperture: | f/2.6 |
| Focal Length: | 4.5mm |
| ISO: | 80 |
| Shutter: | 1/0 sec |
| Camera: | DSC-W650 |
This is a 1:10 scale out house. I'll post free plans when they're complete. Construction is very similar to the Adirondack shelter but simpler, less materials, etc. So it's a good one to start on. I also plan to weather this one so as to experiment with techniques before attempting on the shelter.
The Base is built first.
Next are walls. I used a mini table saw to cut 15 degree angles and notches for roof trusses. This can also be done with a razor saw and laying the wood over the plans and cutting by eyeballing.
Cut base plate per plans, glue walls in place & use a square to make sure they are upright and then glue in the cross braces in front & back:
Next, fit cross braces for seat & frame out door.
I cut out the planks from the bottom. This probably should have been done before but I have a good excuse. I forgot. also planked the top of the seat & cut the hole. I had to use some small pieces underneath to add bracing to the planks where the hole was cut.
The seat is carved from 1/4″ poplar. The door uses straight pins for nails, sharpie fine point for nail stains, door handle is from an artisan miniatureist.
2 comments on "Out House"
Which of these signs were in the outhouse in Wisconsin? The cigarette one is VERY familiar. Do you remember those signs? I was too young. I can't decide if you're gifted or demented. Maybe some of each. This looks amazing. How is the vole/beaver coming?

The only one for sure was the cigarette butt one. I don't remember all of them but some I do & couldn't find or they just didn't work. the pin up girls was my idea. but the outhouse in Wisconsin was the inspiration for sure. I need to get on james about that Vole, He did bring me several bones from various animals so we will be making a dinosaur excavation pit. scale is yet to be determined. I did have a trex incident while building the outhouse, he got a hold of my xacto knife…