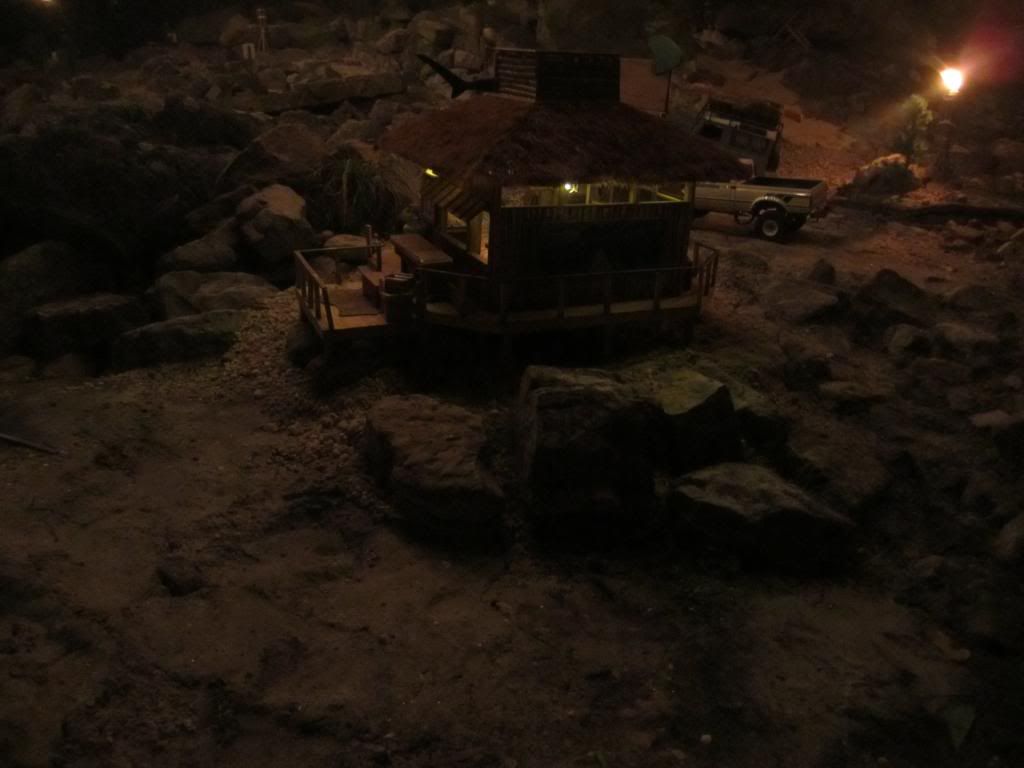 Jungle Hut
| | |
| --- | --- |
| Aperture: | f/2.6 |
| Focal Length: | 4.5mm |
| ISO: | 400 |
| Shutter: | 1/0 sec |
| Camera: | DSC-W650 |
Here is my Jungle Tiki hut. The base & deck is made from basswood. The upper structure is 1/2″ timber frame construction using poplar (won't use poplar again). I made the bamboo siding by cutting strips off bamboo cane poles using a table saw. Roof thatching is coconut fiber glued to roof framing with hot glue. There are various pieces of trim done in oak, maple, basswood, mahogany & walnut, my favorite.
In the past, I used a lot of doll house accesories to outfit my buildings. Because I work in a scale of 9 – 10 rather than the standard dollhouse scale of 12, I'm trying to make more of it myself. Kitchen stove & one or two small items are the only dollhouse things. Will give credit to my friend Jeff who made the case of motor oil for me & my friend Richard who made the toolbox next to it. And the large propane tank was made by someone else. Everything else is me or poached pieces from various things like the pith helmet, it was part of a 3 stooges 8 scale model kit.
Anyway, here are the final pictures, links to the build threads are on my "Finished Projects" page.